San Antonio, Texas
A gneuromuscular dentist is one who practices within the discipline of neuromuscular dentistry, which focuses on the function and alignment of your jaw.
While general dentistry focuses primarily on your teeth, bones, and gums, neuromuscular dentistry takes a more comprehensive approach to treating dental disorders. To determine the proper treatment, a neuromuscular dentist will evaluate your mouth's:
Hard tissues
Soft tissues
Muscles
Nerves
Teeth
Bones
Gums
Joints
The goal of gneuromuscular dentistry* is to make certain that your mouth and jaw are functioning properly and that any pain you may be experiencing can be alleviated. This optimum level of jaw function occurs when your temporomandibular joint is in the proper position. This will enable your jaw, mouth and neck muscles to completely relax. When your jaw is misaligned, it can lead to debilitating problems such as migraines, trouble chewing and speaking, and severe pain in your neck, back, and shoulders and even arms.

General Dentistry
General dentists are focused on achieving your optimum oral health. Their goal is to complete a dental exam on your teeth, bones and gums, and identify any factors that are contributing to the deterioration of your oral health.
An examination may include:
Soft tissue exam
Examination of the teeth
Individual x-rays (radiographs)
Panoramic x-ray
Evaluation of the temporomandibular joint
Once the causes of any oral health problems have been determined, a general dentist will go about determining the best method for eliminating each factor that is causing your poor oral health.
The total elimination of all detrimental factors is not always possible at a general dentist's facility. Sometimes, the problems discovered have gone on too long and are too severe. In this case, a general dentist may refer you elsewhere, to another doctor with more advanced training such as a neuromuscular dentist.
Cosmetic Dentistry
While general dentistry focuses on oral hygiene and preventing, diagnosing, and treating oral disease, cosmetic dentistry focuses on improving the aesthetic appearance of your smile. So, while a general dentist addresses problems that require necessary treatment, a cosmetic dentist provides voluntary dental services.
But cosmetic dentistry can also provide restorative benefits. Dental fillings, for example, were once made of amalgam and other metals that left dark spots on the teeth and wore over time. Today, cosmetic dentists can replace old amalgam fillings with new, attractive tooth-colored fillings. Not only does this enhance the aesthetics of your smile, it also adds a restorative feature that also enhances your overall oral health.
Serving the San Antonio area, dentist Dr. Brian Hale is a skilled cosmetic and gneuromuscular dentist. He can help you achieve a beautiful, pain-free smile in as little as one or two visits. If you live in the area, please contact our San Antonio office today to schedule a consultation.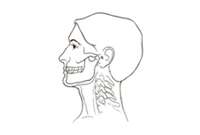 Describe Your TMJ
Printable Form (PDF)
To help us better understand your specific pain points and determine the ideal treatment, please print this form. Circle all symptoms that apply to you and bring it to your TMJ consultation.